We're having a blizzard here right now. The buses aren't running at night for the first time ever (for me lol) and they're actually telling people that if they don't need to leave the house they shouldn't. It's going to be -40 here tomorrow (that's the same in Celsius and Fahrenheit by the way). Have I mentioned how much I hate snow? It gets into EVERYTHING. I submit, for your consideration:
That's the front door. And that white stuff? That's snow. Crazy. Snow can be pretty though: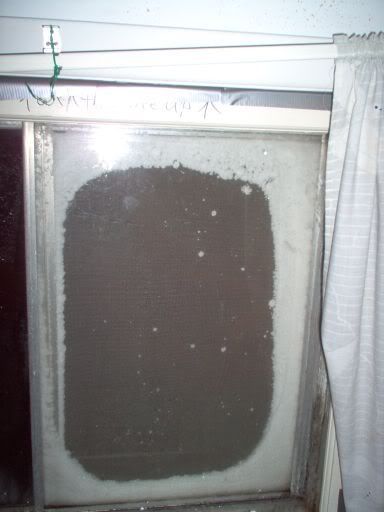 I've been sick lately so I needed some instant gratification knitting. So I decided to knit Knitty.com's "
Calorimetry
"
This is a horrible picture of me, but I've been sick so I'm not too worried about it. Just ignore the acne I've been unable to care for, the wonky hair, and the raw red nose. Actually, I take that back, my hair's not that wonky. It's kinda cute actually. Anyway, in other knitting news, I started my Harry Potter scarf. I'm not knitting it in the round cause I couldn't afford that much yarn nor do I have that much patience. Just 1x1 rib, PoA color/stripe scheme, Ravenclaw colors (the movie version b/c I don't believe blue and bronze should EVER be in the same article of clothing).
I'm not looking forward to sewing in all those freaking ends....
And since I've been sick Dylan brought me home a few treats the other night. Including this:
Isn't he sweet?